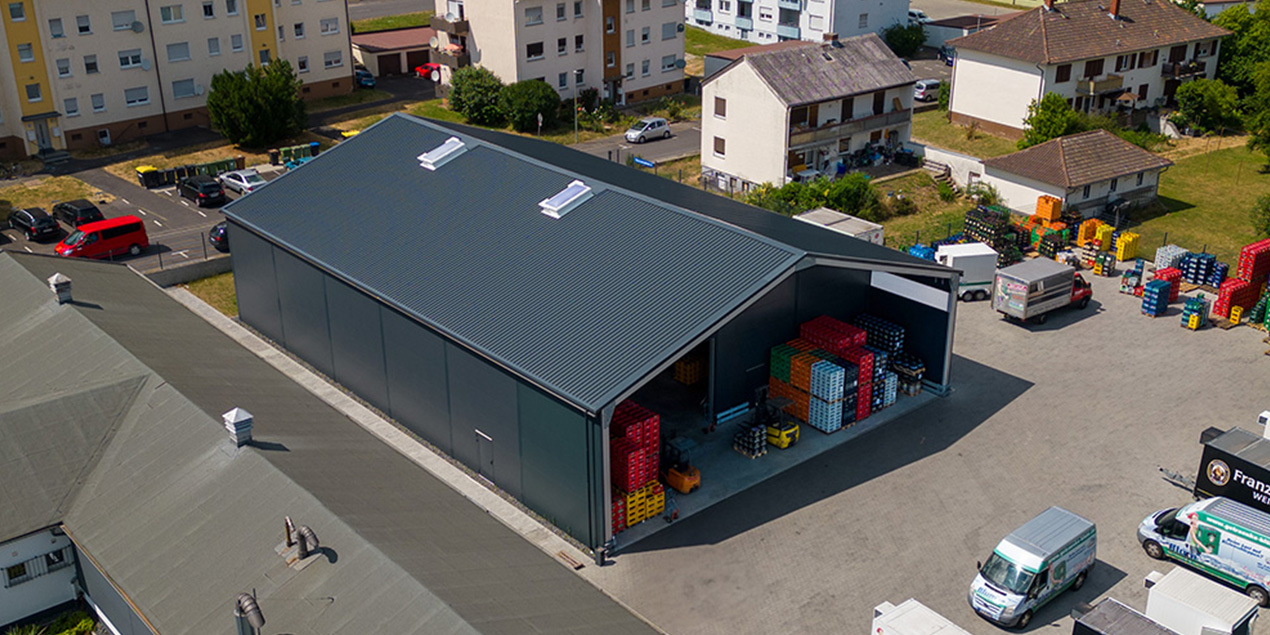 (Semi-)permanent storage in Nidda
Warehouse and storage | Industrial application
Client
Blum
Client objective
An insulated warehouse facility to store climate-sensitive food products.
Information
Kontent Structures realised a permanent storage hall in Nidda, Germany. Due to lack of storage, the client could no longer accommodate its growing stock. Kontent Structures delivered a custom-made hall construction.
This 600m2 warehouse is fully insulated with sandwich panels in anthracite for roof, wall and facade, ensuring the preservation of the quality of the stock. In addition, the climate control system and smoke and heat extraction (RWA) ensure that the atmosphere in this warehouse is optimal efficiency. The facade is placed towards the back 5 metres, creating a canopy where the client can prepare his goods for transport or storage.
Below is an overview of the features:
Construction: WSI 300
Width: 20m (free span)
Length: 30m
Sidewall height: 6m
Wall: ISO sandwich panels
Roof: ISO sandwich panelsDoors: one overhead door and two single pass doors
Are you looking for information about a custom-made tent?
If so, contact our specialist advisers without any obligation.
Sales: 0172 – 24 12 06                   Rentals: 0172 – 61 19 90
info@kontent-structures.com
Project details
Structure used for this project