Construction & Infrastructure
Construction and infrastructure projects are subject to deadlines. Adverse weather conditions can considerably obstruct the pleasant and effective progress of a project. We offer various spatial solutions to ensure that your renovation or construction work can always be carried out; regardless of the weather.
All our tent constructions are placed as a free span. This allows you to make optimum use of the available space. With a free span, there are no supporting pillars inside the tent and no guy lines outside the tent.
The solution for construction and infrastructure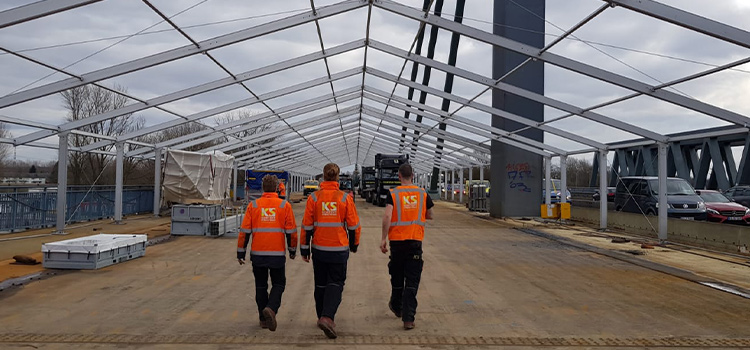 Construction tent
Are you looking for a workplace where work can continue regardless of the weather conditions? A working tent is a solution. With a work tent, you will not be bothered by rain, frost, or wind during work. The working tent offers a safe workplace and pleasant conditions for executive employees. A working tent can be rented for various purposes such as concrete, blasting and coating work, work on bridges or roads, refurbishing boats, construction or renovation of swimming pools, work on railways.
Renovation tent
With a construction tent, regardless of the weather conditions, you can continue with your work, and the work remains well protected from the elements. Besides his, your employees, materials, and machines are of course also protected by the construction tent, so that productivity is optimal. Our aluminium tent constructions are suitable for many purposes and can be realized at most locations. It is not unusual for us to place the construction of a construction tent over an object or certain obstacles using a crane.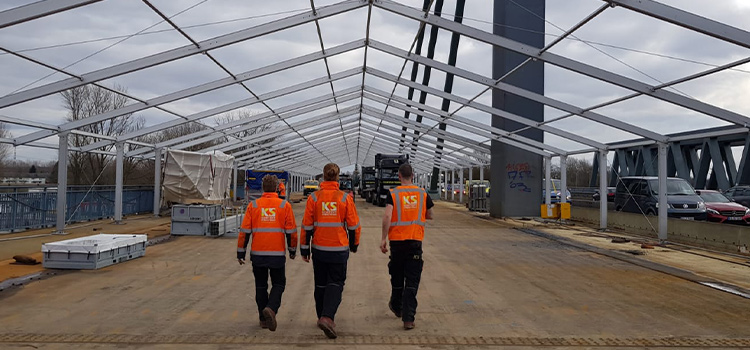 Welding tent
We regularly advise companies on working in the event of undesirable or unexpected circumstances. A working tent provides a safe, warm and dry working environment. Regardless of the weather, the work will be continued so that your project is not delayed. A work-through tent is a work tent or construction tent that is not, in principle, provided for in the project and is therefore deployed on an "ad hoc" basis. Whether urgent or not.
Additional information for a welding tent
We have the right accommodation for every spatial problem. Spread over several possible types of tent structures, many widths and heights are available:
Width: 2.75 m to 50 m
Length: unlimited, in segments of 5 m
Sidewall height: 2,5 to 4 m
The ridge height depends on the width and length size of the tent structure you have chosen

Construction and maintenance structures for various occasions
---
Construction tent structure cases