Temporary buildings & semi-permanent structures
Are you struggling with a shortage of space during your renovation, renovation or new construction?
Has your business grown to the point that it requires additional storage space? Or are you looking for extra work and/or production space for your company? By using a tent construction, you create the space to solve your spatial problem.
The use of a (temporary) tent construction provides flexibility in dimensions. Not only after construction but also when the tent construction is in use, the accommodation can be reduced, enlarged or even moved at any stage.
Kontent Structures has several tent structures that can make up for your lack of space.
Popular Tent Structures
Semi-permanent tent structures
At Kontent Structures we specialize in tent accommodations for temporary and semi-permanent applications.
Are you looking for a temporary extension or replacement for your business location such as a temporary restaurant, semi-permanent showroom, expansion of existing business, dressing room during a turnaround? Kontent structures will gladly look for the best solution for your spatial problem.
Our tent accommodations for temporary accommodation are standard insulated and suitable for semi-permanent use. This means that the correct wind and snow load standards have always been taken into account.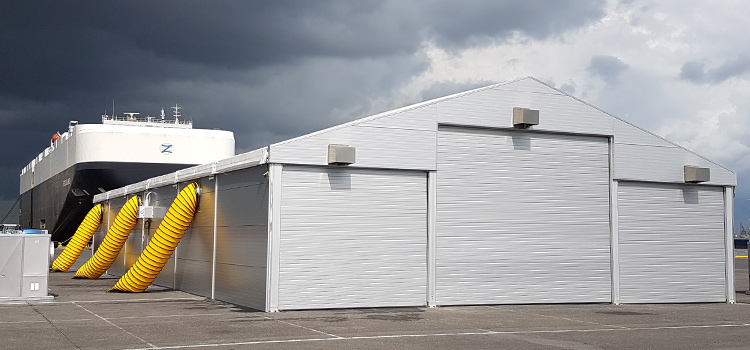 Our tent structures have an unlimited length, in segments of 5 meters. The sidewall height varies from 2.5 m, depending on the type of construction, up to 8 m. Due to a free span of 5 to 40 meters the entire tent can be used optimally.
Advantages of using a (temporary) tent structure for your spatial problem?
Our tent structures for your business solution can be realized and operational within a few weeks.
A tent structure is flexibility at its best. The accommodation can be reduced, enlarged or moved at any stage.
The tent construction can be placed at the desired location.
An extra storage space on your site prevents additional transport costs for transport to an alternative location.
Lower 'everywhere' costs than for new construction, with more attractive residual value
Our tent constructions have the appearance of a permanent building thanks to various specifications.
The tent construction can be connected to your existing building using wind and watertight transition.
Own appearance or corporate identity can easily be incorporated into the design.
Business solution for various occasions
Semi-permanent supermarket or distribution centre
Canteen for company, institution or association
Workshop or production area
Temporary hangar for large equipment or aircrafts
---
Semi-permanent structure cases